Used Car Dealer near Lansing MI

Ease into buying your next car at our used car dealer near Lansing, MI. When you walk into our showroom, your smile will broaden as you realize the variety of possibilities you have.
While you browse all of your choices, a sales associate at LaFontaine Chrysler Dodge Jeep Ram (CDJR) of Lansing will be available to talk to you and guide you along your car-buying journey.
Serving Lansing MI
While you're car shopping, start planning your itinerary of places to visit near Lansing, MI. If you're an animal lover, you can visit Potter Park Zoo to hang out with your furry and feathery friends. To be one with Mother Nature, plan a hike along the Lansing River Trail.
Other outdoor pursuits range from taking a walk through the W. J. Beal Botanical Garden to swimming and enjoying the other fun activities at Hawk Island Park.
Used Cars for Sale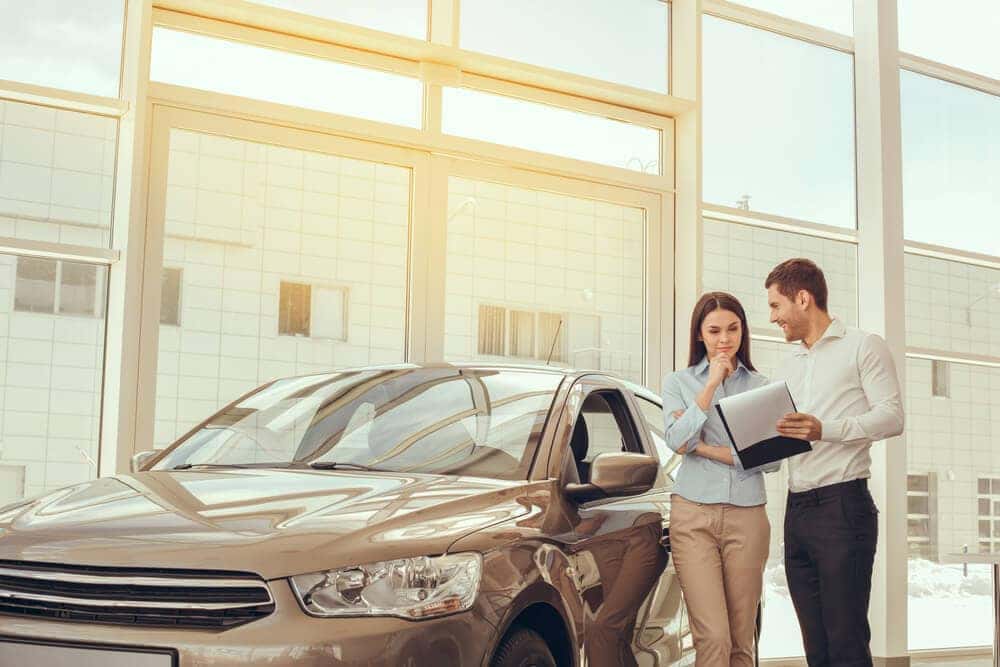 Seeing our used inventory in person may help you figure out what type of car you want to buy. Since we have hundreds of models in stock, you'll be able to find the car that's right for your lifestyle.
Tell your sales associate about your driving style and what factors make up your dream car. That way, they can lead you to the vehicles that make the most sense for you.
During your search, we encourage you to browse our online inventory. Use the filters to search for the qualities you prefer, from color to drivetrain. This will pare down your choices to the best matches for you. It also informs you about any extra items that could be a dealmaker.
We carry bestselling cars, like the Ram 1500 and the Jeep Grand Cherokee, as well as other praiseworthy brands that you love and trust.
Certified Pre-Owned Cars for Sale
While you're exploring our used car selection, you'll spot another pre-owned category. Certified pre-owned (CPO) vehicles give you bonuses and quality you cannot deny.
Although every used car undergoes careful examination, a CPO vehicle gets the royal treatment. To receive the CPO designation, it must pass a 172-point inspection with flying colors. It also must have a clear title, be less than six years of age, and possess 75,000 miles or less on the odometer.
The benefits that come with a CPO vehicle make the distinction between traditional used cars and this alternate version. For your peace of mind, the bonuses you'll have include a factory-backed powertrain limited warranty, maximum care coverage, and 24-hour roadside assistance and towing.
Find the Ideal Used Car Financing Program
Part of your car search involves finding the ideal financing program. Maybe you want to stay within a certain budget or need an arrangement that works with your personal credit situation. Whatever you need, our finance experts will produce an agreement tailored to your individual situation. Just fill out the finance application online and we'll take care of all the details.
What If I Have Subprime Credit?
When you're told you have subprime credit, you may not know what that means. It represents a credit score between 580 and 669, which gives a loan officer an idea as to how likely it is that a borrower will pay a loan on time and in full.
If you failed to pay other bills on time or sent payments in late, this could impact your score. Applying for multiple cards or loans, whether they are approved or not, could affect it as well. Life challenges, such as bankruptcies, foreclosures, or car repossessions, can also contribute to a lower score.
Our finance experts will do their best to find a loan that works for you. They will reach out to their network of lenders to determine your eligibility. In some cases, higher interest rates could accompany the loan.
How to Sell or Trade In Your Car
If you want to sell your car, you can either start the process online or by talking to your finance professional. We make it easy by giving you access to the Kelley Blue Book® Instant Cash Offer. This form only takes a few minutes to fill out and will supply you with an estimate of your current vehicle's value. Then, you can visit our dealership to redeem your offer.
This form can also be used to arrange a trade-in. It provides you with a rough estimate of the value of your car so that you can turn it in to us with this knowledge in hand.
On the day of your vehicle purchase, we'll accept your current car into our inventory. You can easily drive off knowing that your car is in good hands. The value will then be applied to your loan or lease and can lower the total cost of the newer vehicle.
To get the best value out of your trade-in, be sure to prepare it by cleaning it inside and out. Be sure to discard garbage, vacuum and clean the interior, and remove any personal belongings. This includes erasing any personal information from the tech devices.
You may also wish to have the car inspected by our efficient service team. They can point out any areas that could be easily updated and refurbished.
Service That Leaves You Confident and Secure
Having a car that works well and takes you everywhere you want to go makes you feel confident and secure. You also want that feeling when you bring your car in for service. With our talented service team on hand, you'll feel relaxed, as you'll know they have your best interests at heart.
When our service techs works on your car, they will use cutting-edge tools and original equipment manufacturer (OEM) parts. By using these items, your car will perform well and make you feel safe. Luckily, we have easy access to a parts department onsite, so you can expect efficiency when you get your car fixed.
Start Your Car Search at the Used Car Dealer near Lansing MI
A smile will appear on your face when you see the pre-owned inventory at our used car dealer near Lansing, MI. You can expect a carefree car-buying experience, with our LaFontaine CDJR Lansing sales associates standing by, if you need their assistance.
To get started, contact us online to reserve your test drive.